Recent Graduates: Start Substitute Teaching
Calling all recent graduates! Consider substitute teaching as your next step!
There's a teacher shortage in California. At Scoot Education, we're aiming to solve that problem by empowering recent graduates to get in the classroom and provide a day of continuous learning.
If you're pursuing a career in education and working to get your credentials, or you were a high-performing and driven college student--we want to talk to you!
We understand as a recent graduate it can be difficult to complete all of the requirements for graduate school and accreditation while affording to pay the bills! Why not get classroom experience and get paid for it?
We're eager to see upcoming leaders, like you, begin gaining valuable experience in the classroom now! Consider becoming a substitute teacher with Scoot. We'll guide you through the process and get you working in schools by fall 2018!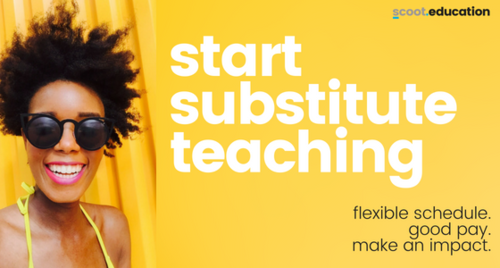 ​

THE ROLE
At Scoot, our substitute teachers believes in the value of an exceptional education.
No movie days in the classrooms served by us!
Our substitute teachers brings a high level of competency, aptitude for common sense, and professional attitude to the classroom.
They understand the complexities associated with filling in for the day and take great pride in providing a consistent, valuable day of learning when the regular teacher is away.
They are professional (especially in high-stress situations), reliable, flexible, and eager to quickly build rapport with students, staff, and the school community.
Above all, our substitute teachers understand that they are an extension of Scoot and strive to represent Scoot with the utmost integrity knowing they are part of an elite group of educators.
SKILLS NEEDED:
Experience teaching, tutoring, babysitting/nannying, coaching or as a camp counselor
Empathy, integrity, professionalism
Capacity to lead in stressful situations
Ability to communicate with diverse audiences
Sense of humor and an authentic passion for teaching
Interest in providing students in Los Angeles a fun and meaningful day of learning
Live in the Los Angeles or Orange County area
REQUIREMENTS
A Bachelor's degree

Willingness to pass TB test and Live Scan
PERKS OF WORKING FOR SCOOT
A simple and easy application process

100% flexible work schedule - no minimum commitment so you decide when to work

Competitive pay, direct deposited every week

Opportunity for Scoot to reimburse application expenses

Devoted, awesome Consultants providing personalized support

Access to professional development to help you develop your teaching skills

You will be an official employee of Scoot and benefit from the perks associated and so much more!
HOW SCOOT IS DIFFERENT
We are small, local, and understand our partner schools

We get technology and have our very own easy-to-use, real-time software

We have heart and strive to build partnerships with schools and educators

We put learning outcomes and authentic relationships ahead of financial outcomes